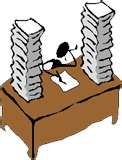 Starting to feel a bit overwhelmed by your senior thesis? You've been researching for months, collecting data and structuring your thoughts, but soon you actually have to start writing the thesis. And when I say soon, I mean really soon. As in this weekend. (Seriously.)
But don't panic! You still have plenty of time to write an honors-worthy manuscript, as long as you get started soon and stay organized. The other big favor you can do for yourself? Sign up for a thesis mentor!
Your thesis mentor will work with you throughout the spring semester, meeting as regularly as you'd like to discuss any and all aspects of your thesis. Your mentor can discuss ideas with you to help structure your argument, look over that one chapter that isn't clicking, and even read through your whole thesis before you turn it in (something your advisor might not do!). It's incredibly beneficial to partner with someone who can keep you on task and track the development of your thesis over time.
To apply for a thesis mentor, fill out this form by Friday, November 16 at 5 PM. Please note that this is a very popular program and while we do our best to help everyone, we will likely not have the resources available to pair every applicant with a mentor. Therefore, we suggest that you both apply early and make a good case in your application for why you would like to work with a mentor!
If you have any questions about the thesis mentor program, please direct them to Ford Fellow Emma Mohney at (860) 265-2440 or writingworks@wesleyan.edu.