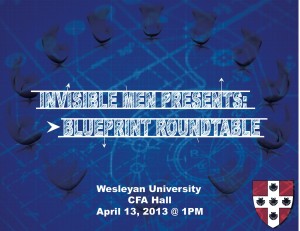 Question Bridge is an innovative transmedia art project that facilitates a dialogue between a critical mass of Black men from diverse and contending backgrounds, and creates a platform for them to represent and redefine the black male identity in America.
When filming Question Bridge, the artists encountered a compelling question and answer exchange between a younger participant and an older Civil Rights Activist. The Question: "Why didn't you leave us a blueprint?" sparked an attempt for multi-generational roundtable discussions.
Hence, the Blueprint Roundtable was born. The Invisible Men BluePrint Roundtable invites established black and latino male leaders and emerging black and latino male leaders in the local community to discuss the question of a "blueprint" in an attempt to dismantle boundaries between black and latino males across generations. The program aims to identify communication barriers and facilitate the transfer of information between men; and to isolate local issues that require leadership from the next generation and lessons learned and principles that can be passed from the older generations.
Check out event Updates on Facebook: https://www.facebook.com/events/127507440766077/
And our Twitter: @WesInvisibleMen