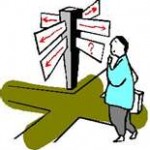 The planning period for the Spring 2011 semester  runs from Tues., Nov. 2 through Tues., Nov. 16 at 5 p.m.   Because you will be declaring your major next semester, you want to think carefully about the courses you choose (and do not forget there is drop/add in case you change your mind by then!).  Talk with your advisor or professors in whose department/program syou have some interest to get a better idea of the major and what courses you might take.  And definitely check out on Wesmaps descriptions of the major and courses offered, including in the "Archives."
If you are still exploring major possibilities, try out the gateway courses so you get a taste of what the discipline is about and have the prerequisite for advanced courses. 
If you are deciding between two majors, consider taking a course in each department/program to help you decide and  to move you forward at the same time. 
If you know exactly what you want, well then, go for it.  
If you're still uncertain, you should know that students change majors even after the major declaration period, which runs from Feb.  3 to Mar. 5, 2011.  Depending on the major and your own academic history, you may have some flexibility to drop or add a major after March 5.  In other words, you still have time to explore next semester. 
Also, remember that your major does not necessarily determine what you will do with the rest of your life.  To get some perspective on this, talk with a CRC staff member and check out what Wes alums have done with their majors—see the amazing range of jobs that you wouldn't even think of—by accessing MyCRC.
If you have questions, concerns or angst, please do not hesitate to talk with your faculty advisor and/or me .  We want to help you make the decision that is right for you.  
2013 rocks, Dean Brown  (x2758, lsbrown@wesleyan.edu)