Hello all Wesleyan Student Musicians!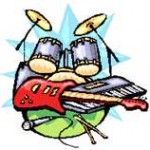 Many of you may already know about a great space available in the Usdan Center for bands, musicians, etc to rehearse in located on the basement level.  New as of this Fall, in order to reserve this space you must attend an informational session hosted by the Usdan Music Co-Op.  The Usdan Music Co-Op is a student group made up of Wesleyan musicians that is responsible for the upkeep and organization of the Usdan Music Rehearsal Room.  At this informational session we will review the policies and procedures that are a part of this space as well as collect any of your ideas on how improvments can be made.
Our first information session will be on Sunday, September 4 at 7pm – Usdan Multipurpose Room – B 25 (Basement level)
If you cannot make this day and time here are the next few dates:
Wednesday, September 7 at 9pm
Friday, September 9 at noon
Wednesday, September 14 at 9pm
All will be held in the Mulipurpose Room in the Basement.
More dates as needed will be scheduled if you cannot make any of these sessions. Again, you will not be able to reserve this room in advance without attending an info session.  You can do a walk up reservation on the day of only at the Usdan Information Desk.  However, this space books fast!!! We can't guarantee that the room will be available. 
If you have any questions, feel free to email usdan@wesleyan.edu