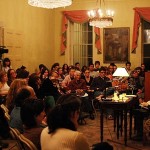 We are excited to announce the launch of our brand new Writing Workshop Blog. The Writing Workshop Blog is a resource for student writers and students who write. Affiliated with the Writing Workshop, where students can meet one-on-one with a trained peer tutors, this blog is meant to serve as a space to discuss, promote, and improve our writing.
Topics range from the academic to the personal, the practical to the fantastical. With student interviews, advice, events, and suggestions, the blog is updated daily and will provide a hub for discussions and information about writing at Wesleyan.
The blog is entirely student-written and student-run.  We encourage you to all check it out!  
If you have questions, comments, or suggestions, please email us at writingworks@wesleyan.edu. Happy reading!