Are you uneasy about your past midterms? Did you feel unprepared?
Want to get a head start to finish up the year on a high note?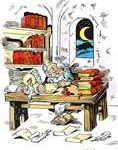 Come to the exam preparation workshop at Usdan 136 at 12:00pm today!
The workshop will cover the use of notes, ways of studying, working in groups and more!