RETHINK AFGHANISTAN
Come see this groundbreaking new documentary film from 
Robert Greenwald, director of Iraq for Sale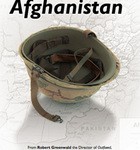 WHAT: Film Screening of "Rethink Afghanistan"
Followed by a critical discussion on the film, the war, and where we go from here
WHEN: Tuesday, December 8, 2009
8-10 p.m.
WHERE: Shanklin 107
 FREE ADMISSION!!!
On December 1st, 2009, President Barack Obama officially announced that he would be deploying 30,000 new troops into Afghanistan, beginning the next chapter in a war which recently moved into its 9th year of active conflict.
"Rethink Afghanistan" is a new feature documentary film from the progressive film company Brave New Films. It is directed by Robert Greenwald, famed director of the breakthrough documentary "Iraq for Sale," which detailed the extensive role of U.S. private contractors in the War in Iraq. Check out the website at http://rethinkafghanistan.com/ .
The film is shot primarily inside of Afghanistan, and focuses mainly on the opinions of the Afghan people on the prospect of continued and escalated war. It is a one-of-a-kind film, and is not to be missed at this crucial juncture of the conflict.
Contact pblasenheim@wesleyan.edu for more info.