Latin@ Affirmation Month 2009:  Looking Back, Moving Forward
 Convocation Speech–Dorisol Inoa '13 and Gladys Sosa '13
           Gladys:  Looking back, I realize that we all come from very different environments, and I do not mean simply different countries. I mean we all come from different neighborhoods, different religious backgrounds, and even different cultures. I am specifically looking back, though, on the social environments we spent our last four years in, well for some of us it has been longer than that.
Some of us come from high schools where Latinos were the majority of the school's population, where Spanish dialects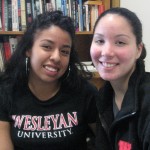 roamed the halls and where being Puerto Rican or Dominican or Mexican was the norm. Everyone had Latino pride or at least faked it to fit in. Therefore there was no need to define who the Latino community was or make a group to provide support, like Ajua Campos does.
          Dorisol:  Others come from private or boarding school where Latinos were the minority. In fact, you could count the number of Latinos in the school. There was no joking around in Spanish or sharing stories that everyone could relate to. Being Latino in school meant being different. Although you may have dreamed of having some sort of Representative Latino group in your school, you felt that there weren't enough Latino students to successfully organize such a group, like Ajua Campos.
We won't settle down for a silent group of Latinos. That is why we are here today, as new members of Ajua Campos because moving forward, we as Wesleyan freshman look forward to becoming a part of a group that specifically explores the roles of Latinos in our community and in the academic and professional world. We look forward to the resources that are available to us as WES students that enable us to reach out to our community. We look forward to representing our families and culture in academia.
          Gladys:  We want to be a part of a Latino community that strives to diminish the barrier between other communities and ours, created by the mindset that we are not like them. This way we may learn to freely and comfortably engage with anyone of any ethnic background. Most importantly, we look forward to learning of Ajua Campos's past and making history in the next few years.
Finally, I am glad to say that since I have arrived on this campus, I have been welcomed by the Ajua Campos community, exposed to controversial issues surrounding our community, and inspired to make change for the better here at Wesleyan as well as in our world.