Usdan Common Connections presents a lecture by Dr. Peter Frenzel, Professor Emeritus
Bringing Dead Languages to Life:  Spells, Curses, and Heroic Deaths in Old Teutonic Tongues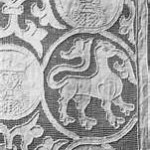 After speaking briefly about the social context of the "dark ages," Professor Frenzel will chant some spells and curses–no harm will come of it–and then recite some dramatic moments from Germanic heroic tales originating between the fifth and the tenth centuries CE.  The languages will include Old English, Old Saxon, and Old High German, all forebears of our present-day English. It will be a feast for the ears of a barbarian, although translations will be at hand for the ears of the others.
Tuesday, December 8, 5-6 p.m., Usdan Daniel Family Commons
Reception immediately following. Limited seating!  All are welcome!