Calling all first year students!  Second Stage, Wesleyan's student-run theater company presents
Outreach Weekend           November 12-14
Featuring dance, comedy, new work from student playwrights, and more!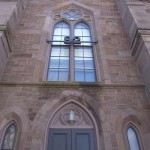 Saturday, November 14 is Open House Day, from 1-5 p.m. – Come explore the Patricelli '92 Theater, learn about Second Stage and Wesleyan student theater, and participate in workshops including "How to Put on a Show, " "Stage Fighting Workshop," and a "Stage Management Workshop."
Whether you're an actor, director, techie, playwright or new to theater entirely, Open House Day is great opportunity to learn the ropes of the Wesleyan student theater community – don't miss out!
If you are an actor, dancer, singer, comedian, musician, magician, juggler or performer of any kind and would like to participate, email cdilello@wes to get on the lineup. See you in the '92!
he '92 Theater is located on College Row, between Judd Hall and the Memorial Chapel.