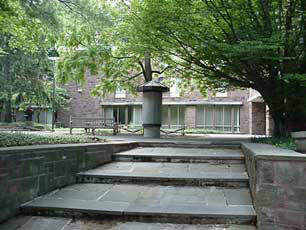 Student housing at Wesleyan is designed so that first-year students live together in residence halls near the center of campus.  As they move through their years at Wesleyan, students have an opportunity to choose an increasingly more independent living option from residence hall doubles to singles to program houses, and eventually apartments or senior houses.  All of these options are within a 5-10 minute walk from the center of campus.  Residential facilities vary by size, room type, and ratio of first-year to upper-class students.  Smoking is not permitted in any of the student residences at Wesleyan.
If you haven't already done so, be sure to login to the Residential Life online housing preference form so that you can indicate your level interest in the various housing options that Wesleyan offers to first-year students.  In addition to indicating your preference for living in a single, double, or triple room, the form seeks your input regarding a variety of community-based living opportunities.   Your housing preferences must be entered into the system by 11:59 p.m. on June 7, 2009.  Until the deadline you may login to the system as often as you like and make as many changes as you need to make.  No changes may be made after the deadline, however, so that the Office of Residence Life can begin the process of making actual housing placements.
On July 22, you will be able to find out about your housing placement and roommate assignment by logging in to your e-portfolio.  In the meantime, you are encouraged to check out the suggested packing list of things that you may want to consider bringing to Wes.  It is also important that you consult Physical Plant's housing guidelines and fines that have been developed to maintain the safety and integrity of Wesleyan residential facilities.  Any questions you may have should be directed to the Office of Residential Life at reslife@wesleyan.edu or 860.685.3550.