2013–Get Your Act Together and Feel the Love!  Bring it on!
Thursday, February 16, 7:00 p.m.
Crowell Concert Hall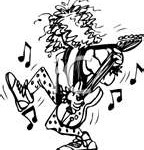 Acoustic, electric or a cappella
Ensemble or solo, original or cover, any genre
All performers must be in the same class year for ensemble entries.
Performances must be no longer than 5 minutes.
Very Decent Prizes for Best in Class, Best in Show & Judges' Choice
Entry Deadline: February 9!
Click on this link to submit entry form:
http://www.wesleyan.edu/studentaffairs/musicalmadness/madness-entry.html