On behalf of the Jewish and Israel Studies and the Film Studies Department with support provided by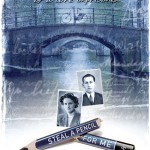 the Academy of Motion Pictures Arts and Science, it is my pleasure to invite you, your students and friends to a special screening of Steal A Pencil For Me . "I am a very special Holocaust survivor. I was in the camps with my wife and girlfriend—and believe me, it wasn't easy", thus confesses Jack about his love to Ina during the war. When Jack's wife objects to their relationship despite their unhappy marriage, Jack and Ina start writing secret love letters. This is an amazing film about the power of love to ascend above human suffering.
The event features a special guest, an award winning writer and director, Michele Ohayon, P'14. The movie received the Yad Vashem award at the Jerusalem Film Festival (2007), the ABC/Video source award (2007),the Audience Award at the Sonoma Film Festival as well as the Spirit of Anne Frank Honoree. Michele Ohayon will introduce the film as well as answer questions after the screening. The event is going to take place on Thursday, November 4 at the Goldsmith Family Cinema at 8 p.m. Admission is free.  See you at the movies! 
Dalit Katz, Wesleyan University, Religion Department