WE LOOK FORWARD TO YOUR RETURN TO CAMPUS!!
 So how different is getting ready to leave for Wesleyan this year compared to last? 
What a difference a year makes!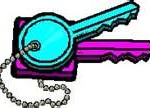 We look forward to your arrival on Saturday, September 4. 
Keys are available from the Office of Residential Life from 9 a.m. to 5 p.m. 
You also can pick up your key on Sunday, September 5 from 10 a.m. to 5 p.m.
 SEE YOU IN TWO WEEKS!!