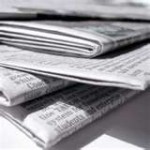 Offered by the distinguished journalist Jane Eisner, Wesleyan's first Koeppel Fellow in Journalism 
Class Meets Thursdays 7:00-9:50 in PAC 421
Students may register online, the course is open to students from all four class years.
Course Description:
In this weekly writing seminar, we will explore how journalists exercisetheir roles as citizens, and, in turn, how journalism affects the functioningof our democracy. Using historic and contemporary examples, we willexamine how, at its best, the media exposes inequity, investigates wrongdoing, gives voice to ordinary people, and encourages  active citizenship.
 Instructor Bio:
Jane Eisner, a pioneer in journalism, became editor of the Forward in June 2008, becoming the first woman to hold the position at the influential Jewish national weekly newspaper. Eisner held numerous executive editorial and news positions at the Philadelphia Inquirer for 25 years, including stints as editorial page editor, syndicated columnist, City Hall bureau chief and foreign correspondent. In 2006, she joined the National Constitution Center in Philadelphia, where she served as vice president for national programs and initiatives, with responsibility for all adult programming, the Liberty Medal, and the Peter Jennings Project for Journalists and the Constitution. Since 2002, Eisner has been a senior fellow at the University of Pennsylvania's Robert A. Fox Leadership Program, as well as an adjunct professor in the school's political science department. In 2006, she was one of three women chosen to be the first fellows of the new Katharine Houghton Hepburn Center at Bryn Mawr College, where she led conferences and workshops and was the college's 2007 commencement speaker. In 2009, Eisner was selected to be one of 20 fellows in the Punch Sulzberger Executive News Media Leadership Program at the Columbia School of Journalism. Her book, "Taking Back the Vote: Getting American Youth Involved in our Democracy," was published by Beacon Press in 2004. In addition to her Inquirer column "American Rhythms," which was syndicated to 100 newspapers, Eisner has contributed articles to a number of Jewish publications, including The Reconstructionist, Ma'ayan and the Forward. She has also written for the Washington Post, Newsday, Brookings Review and Columbia Journalism Review, and served as a regular panelist on the WPVI television talk show "Inside Story."
An active member of her local community, Eisner is a board member of the Jack M. Barrack Hebrew Academy, a past president of the Pennsylvania Women's Forum, a former trustee and secretary of The Philadelphia Award, and a mentor with Philadelphia Futures. Nationally, she is a member of the Columbia School of Journalism Alumni Board, the National Conference on Citizenship's advisory committee, and the Encore Leadership Network. Eisner received a master's degree from Columbia University's School of Journalism and graduated from Wesleyan University cum laude in 1977, where she was the first female editor of the college newspaper and was a member of the board of trustees. She recently was the first woman to win Wesleyan's McConaughy Award for contributions to journalism and public life.