In Celebration of the Life of Dr. Martin Luther King Jr.
Living the Dream: Youth Activism and a New Vision for Urban Public Education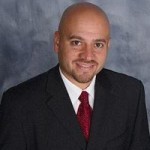 Keynote address by:
Dr. Jason G. Irizarry
Tuesday, January 26th
4:30 p.m., Memorial Chapel
Dr. Jason G. Irizarry is an Assistant Professor of Multicultural Education in the Department of Curriculum and Instruction in the Neag School of Education and Faculty Associate in the Institute for Puerto Rican and Latino Studies at the University of Connecticut.  Prior to his arrival at UConn, he was the Director of Project SPIRIT (Springfield Partnership to Improve the Recruitment of Inspiring Minority Teachers), a college-community collaboration aimed at increasing the number of teachers of color in urban schools.  He received his doctorate from the University of Massachusetts-Amherst and has taught undergraduate and graduate courses in multicultural education, culturally responsive curriculum development, action research, and urban education.
A former middle school teacher in New York City, his research focuses on urban teacher recruitment, preparation, and retention with an emphasis on increasing the number of teachers of color, culturally responsive pedagogy, and youth participatory action research. A central focus of his work involves promoting the academic achievement of Latino and African American youth in urban schools by addressing issues associated with teacher education.  Manuscripts documenting the findings of his research have been published or accepted for publication in a variety of journals in the field including Education and Urban Society, Multicultural Perspectives, Race, Ethnicity and Education, Teaching and Teacher Education, and the Centro Journal of Puerto Rican Studies and others appearing as chapters in various books including the Handbook of Latinos and Education: Research, Theory & Practice (Murillo, 2010) and Culture, Curriculum, and Identity in Education: Progressive Perspectives on Research, Theory, and Practice. (Milner, 2009).
Class
Dr. Irizarry will conduct a seminar for students on his work.
10:30am, Open to the first 20 respondents
To register, email stuact@wesleyan.edu
Luncheon
Join us for a discussion with Dr. Irizarry over lunch (reservation required)
Noon, Open to the first 30 respondents (staff, faculty or students).
To RSVP, email stuact@wesleyan.edu