Dr Henry Lee: On Forensics and Foreignness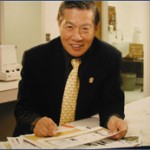 Asian/Asian American (AAA) House presents an evening with forensic expert Dr. Henry Lee, who has worked on numerous high-profile crime cases, including the JonBenet Ramsey murder, the O.J. Simpson case, and the reinvestigation of John F. Kennedy's assassination.
Dr. Lee was born in China and grew up in Taiwan, where he served in the police force. In 1965, he migrated to the U.S., furthering his studies and launching his career in forensic science. Today, he has helped to solve more than 6000 cases.
Don't miss this opportunity to hear about the personal and professional experiences of this renowned forensic science expert! Bring your questions, bring your friends. Reception to follow after event.
Date:   Nov. 16
Time:   7:00 PM – 9:00 PM
Place:  Tishler Hall (Exley 150)