Petitions are now available in the WSA office (Usdan 104) for WSA President, Vice President and for the Senior Class Officers.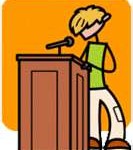 Remember, the President and VP set the direction of the WSA.  They play a vital role in regular talks with the administration and serve as the lead student voices on budgetary issues, campus policy, and every issue that impacts students.
Members of the class of 2013, there's also the opportunity to be a Senior Class Officer. The Senior Class Officers are an external committee of the WSA and plan Senior Events, pick the Student Commencement Speaker, and serve a vital role in keeping your class connected to Wesleyan after graduation.
The petitions can also be found online here.
If you have any questions, feel free to email the WSA (wsa@wesleyan.edu)
Best, Meherazade Sumariwalla '12, WSA VP, Elections Committee Chair