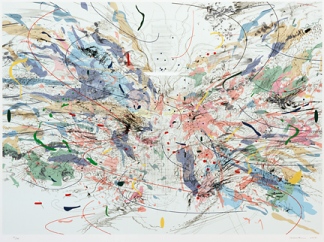 Excavations: The Prints of Julie MehretuDavison Art Center, Wesleyan University
Gallery Talk and Reception
Wednesday, October 5, 5:00-7:00 pm
Cole Rogers, Artistic Director and Master Printer, Highpoint Center for
Printmaking, will give a gallery talk at 5:30 pm, discussing his experience working with Julie Mehretu
and the complex technical and aesthetic interweaving of her prints.
Excavations: The Prints of Julie Mehretu is organized by Highpoint Editions, Minneapolis.
Its presentation at the Davison Art Center is made possible by the Hoy Family Afro-American Visual Arts Fund and the
Lemberg Fund.
The gallery talk is supported by the Davison Art Center and the
Department of Art and Art History Charles and Ruth Taylor Fund and Virgil and Juwil Topazio Fund
Gallery hours are Tuesday-Sunday, 12:00 noon – 4:00 P.M.
(closed Mondays; also closed October 21-25 and November 23-27).
The gallery is open to the public free of charge. The Davison Art Center is located at
301 High Street on the campus of Wesleyan University in Middletown, CT.
For further information, phone (860) 685-2500 or visit the DAC website
at www.wesleyan.edu/dac.