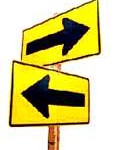 All sophomores must do one of the two things below by 5 p.m. on Friday, March 4:
1)  Declare a major by going to the academic career bucket in your student portfolio;  or 
2)  Submit a completed major deferral form, only if you are not able to declare a major because you do not meet entry requirements.  Click on "Major Deferral Form" on the right side bar on the blog.  Note:  Completing this form includes getting the signature of a faculty member in your intended major.  
Questions?  Contact Dean  Brown at lsbrown@wesleyan.edu or at x2758.