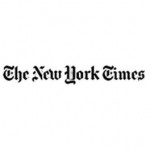 The New York Times is inviting readers to submit entries to the fifth annual "Win a Trip with Nick" contest. 
Through this contest, Op Ed-columnist and Pulitzer Prize winner Nicholas D. Kristof hopes to increase awareness and understanding about the many complex issues and opportunities for the developing world.  This year, Mr. Kristof will choose two winners – one currently-enrolled college or graduate student and one adult over the age of 60 – to accompany him on a reporting trip.  To be considered for the contest, applicants are invited to submit either a written essay or a video entry that articulates their desire to accompany Mr. Kristof on a reporting trip and explains why they are an ideal candidate for such an experience. 
 Essay submissions are limited to 700 words and should be send to WinATrip@nytimes.com.  Video submissions must be under three minutes and should be posted on Mr. Kristof's YouTube channel www.youtube.com/nicholaskristof.  Submissions must be received by January 18, 2011, and students must be 18 or older to be eligible for the contest.
For additional details on Win a Trip, please go to Nick's Blog – On the Ground, nytimes.com/ontheground.