Tickets are still available for Wesleyan's winter break shuttles back to campus. Don't forget to get yourself a ticket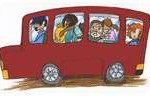 before the deadline and before they all sell out.
The last day to buy tickets is only a few days away: Thursday, January 13th. You can buy your ticket now online at wesleyan.edu/shuttles.
If you need a ride or can give a ride to somewhere the shuttles don't go, use the Rideboard: http://quicklink.wesleyan.edu/rideboard
Here are the dates and times for the shuttles:
Grand Central Station, NY
 Penn Station, NY 
South Station, Boston, MA

Tues, Jan 18, 2011, at 3pm, Buses depart from NY and Boston to Campus
New Haven Shuttle, Union Station
Mon., Jan. 17, 2011 at 4 pm
Tue, Jan. 18 at 11am and 4pm
Wed. Jan 19, at 4pm

Bradley Airport
Monday, January 17th – 1 pm, 6 pm, 10 pm
Tuesday, January 18th – 6 pm, 10 pm
Wednesday, January 19th – 6 pm
Thursday, January 20th – 1 pm
Note: BRADLEY RETURN shuttle pick up location: INSIDE the newer section of Terminal A
at its lower/ground level, near desk and sign for "Bradley Ambassadors Information Center."
This desk is closest to Baggage Claim carousel #4.