Apply to Join a Discussion with Prof. Elie Wiesel, Nobel Laureate
Applications due Mon., Oct. 4th 5:00 P.M. at Anne Greene's office, Downey House, Room 207.
On Tuesday, October 26th, Prof. Elie Wiesel is presenting a lecture to the Wesleyan community entitled "Building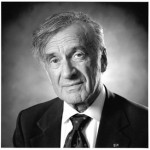 an Ethical Society: The Death Penalty and Human Dignity," at 7 p.m. in Memorial Chapel. Tickets will be available shortly.
Prof. Wiesel, a Holocaust survivor, is the author of more than forty books of fiction and non-fiction, including Night and other volumes of memoirs. For his literary and human rights activities, he has received numerous awards, including the Presidential Medal of Freedom. In 1986, he was awarded the Nobel Peace Prize. 
Earlier on the day of his lecture, Prof. Wiesel will hold a discussion session with a small group of students, focusing specifically on writing about moral and ethical topics. This session is tentatively scheduled for 4-4:45 PM, October 26th, in the Shapiro event room, Allbritton 311.
We invite you to apply to join this discussion group.  Unfortunately we cannot include everyone who would like to attend.  Please submit a statement (from one paragraph to one page in length) indicating
– which works of Prof. Wiesel's you have read,
– what writing question you would like him to discuss, and,
– any intellectual or personal interest you bring to the discussion.
At the top of your application, please include your – name, class year, major, email address, and telephone number.  If you are selected, we will contact you directly.
Thank you so much for your interest. Please contact Anne Greene, the Director of the Writing Programs, or Rabbi David Leipziger, if you have questions.