This summer I traveled to a popular destination for college students: Washington D.C.  I interned for Connecticut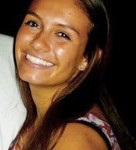 Congresswoman Rosa DeLauro.  My responsibilities included answering phone calls, distributing newspapers, sorting mail and taking notes at various hearings for the staffers.  Although most of those tasks sound mundane, it was actually extremely eye opening for me.  By answering phone calls and checking faxes and mail, I was able to see which issues concerned constituents the most.  By attending hearings, I became much more aware of global issues.  A huge issue this summer was the British Petroleum (BP) oil spill, and I researched and attended conferences on it.  I even attended a hearing at the Rayburn House Office Building where Tony Hayworth (CEO of BP) testified.  At the hearings I was able to hear incredible speakers, such as Ralph Nader. 
One of my other responsibilities was to give constituents tours of the Capitol. That was definitely the favorite part of my job.  I had never been inside the Capitol before, and seeing it from behind the scenes was indescribable. I did not realize how much history was packed into it, so it was difficult to condense all that information into an hour-long tour.  Overall, this internship was an amazing learning experience.  I became more knowledgeable about our nation's history as well as public relations and policy.   As a government major, this past summer's experiences provided me with insights that I could never have acquired in a classroom.