Annual Seasonal Flu Clinic for Students
Seasonal influenza ("flu") is a highly contagious viral illness marked by fever, muscle aches, cough, headache and fatigue. These symptoms often have a dramatically sudden onset and the illness usually lasts seven to ten days. Although influenza typically improves without complications, certain individuals, especially those with underlying medical problems including asthma or diabetes may develop complications, such as pneumonia. Ear infections and sinusitis may also develop with or following influenza.
The most effective preventative measure against seasonal flu is being immunized with seasonal flu vaccine.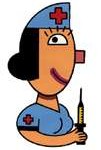 It is especially important for individuals (especially those at risk for flu complications) to be immunized with seasonal flu vaccine which now includes protection against H1N1. Even if you received H1N1 vaccine in the past year, it is recommended that you get the seasonal flu shot this year for the additional coverage it offers.
The CDC recommends that younger people (we are recommending <30) get the seasonal flu vaccine as soon as it is available. Other adults may get the vaccine in mid to late October.
The Davison Health Center and Department of Human Resources is sponsoring a Seasonal Flu Clinic for students, as well as faculty, staff and their dependents.  
Hartford VNA Healthcare will provide the clinical services and staff, and Health Center staff will assist with clerical duties.
Information about the flu, flu vaccine, and notice of privacy practice can be found below by clicking on the appropriate link.  For faster service the day of the clinic, please print off and complete the Influenza Immunization Permission sheet and bring with you to the clinic.  Copies will also be available at the clinic site. Registration is not required.
Please wear a short sleeve shirt for ease of access to your arm.
Date:         Tuesday, September 21
Time:         12 – 4 p.m.
Location:  Usdan University Center 108
Fee:           $37 (cash, check, or bill to student account)
There are also clinics on Oct. 12 and Oct. 21.