The International Photo Contest finalist selections are now on display through April 30 in the Zelnick Pavilion.
Wesleyan students submitted nearly 600 photos for the contest, sponsored by the Office of International Studies and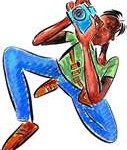 the Office of Student Activities.  Forty-nine finalists were selected in five categories:
People and Portraits        Landscapes       Structures & Cityscapes       Animals & Nature    Local Flavor & Traditions
First- and second-place photos were chosen in each category by a panel of judges, including Pam Tatge, Director of the Center for the Arts; Bill Burkhart, University Photographer ; and Andy Szegedy-Maszak, Professor of Classical Studies.
A closing reception will be held at the Zelnick Pavilion on April 30 from 2-3 p.m.  We hope you will be able to join us at the reception and/or stop by to view the photos during the next two weeks.
Questions?  Contact Carolyn Sorkin, Director of International Studies, or Tim Shiner, Director of Student Activities and Leadership Development