WSA Elections are underway for at-large and SBC seats. Both elections are highly competitive and every vote will count. Let your voice be heard.
These elections are open to the classes of 2010, 2011, 2012 and 2013.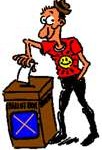 So far 632 students have voted –
frosh: 241
soph: 190
junior: 105
senior: 96
Let's get those numbers up!
Also in this election – the approval of the Green Fund and the WSA Survey.
Take a minute to vote in the approval of the Green Fund as well as take the Survey; the survey contains some very important questions moving forward with academic issues, as well as residential issues.
Voting closes at midnight on Friday, but don't wait. To vote, click here

Meherazade Sumariwalla
Coordinator