Friday, December 18 is the last day to purchase all shuttle tickets to and from destinations over Winter Break. Tickets must be purchased at the box office in Usdan.
Shuttles are available to and from Union Station in New Haven, Bradley Airport, Penn Station in NYC, Grand Central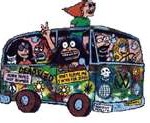 Station in NYC, and South Street Station in Boston.
Tickets for the return trip to Wes in January must be purchased by this Friday. They will not be available for last-minute purchase in January.
Shuttle Times
New Haven Shuttle, Union Station, $9 each way
To New Haven:   Monday 12/21 – 2pm;  Tuesday 12/22 – 2pm;  Wednesday 12/23 – 10am
From New Haven:  Sunday 1/17 – 4pm; Monday 1/18 – 4pm; Tuesday 1/19 – 11am;
New York City and Boston, NYC – Grand Central Station and Penn Station, Boston – South Street Station, $20 each way
To NYC  (Penn Station or Grand Central Station) or Boston (South Street Station):
Wednesday 12/23 – 10am
From NYC (Penn Station or Grand Central Station) or Boston (South Street Station):
Monday 1/18 – 3pm
Bradley Airport, $25 each way
To Bradley:  Monday 12/21 – 5:45 am, 12pm, 4:30pm; Tuesday 12/22 – 5:45am, 12pm, 4:30pm; Wednesday 12/23 – 5:45am, 12pm
From Bradley:  Sunday 1/17 – 1pm, 6pm, 10pm; Monday 1/18 – 6pm, 10pm; Tuesday 1/19 – 6pm;
Wednesday 1/20 – 1pm 
Becky Weiss, WSA Vice President