Please join the Wesleyan Jewish Community for nightly candle lighting this Chanukah. Every night, we will celebrate the holiday with special snacks and other fun activities. The holiday begins Friday, December 11, with candle lighting in the Bayit at 6 p.m. The schedule for the rest of the holiday is:
Saturday 12/12:  Zelnick Pavilion at 5 p.m.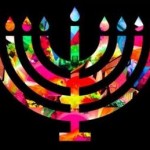 Sunday 12/13:  Olin Library Lobby at 7 p.m.
Monday 12/14:  Nic Lounge at 7 p.m.
Tuesday 12/15:  Usdan Lobby at 7 p.m.
Wednesday 12/16:  Butt C Lounge at 7 p.m.
Thursday 12/17:  Fauver Fishbowl at 7 p.m.
Friday 12/18:  Bayit at 7 p.m.
Rabbi David Leipziger Teva, Director of Religious and Spiritual Life, University Jewish Chaplain, 860-685-2278