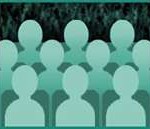 Grab a piece of history!
With a panoramic group photo from orientation, you can preserve the memory of the entire Wesleyan Class of 2013 gathered together to begin your new life on campus.
Ordering is easy!  Just go to http://www.panfoto.com/photography/colleges/detail.cfm?RecordID=782
You can have your photo matted and wood-framed, laminated, or sent unframed. Whatever you choose, within six to eight weeks, your photo will arrive so you can reflect on those first moments of discovery, laughter and friendship.