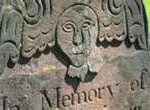 From the tranquil quiet of the Indian Hill cemetery to the spooky headstones of important persons from Wesleyan's past sitting atop Foss Hill, graveyards are a distinctive part of the Wesleyan landscape. The Old Washington Street Cemetery, commissioned in 1739, lies across the street from Indian Hill. Unlike its oft-visited neighbor, however, many people, even lifelong Middletown residents that I have talked to, don't even know it's there.
Beneath the appearances, the Washington Street yard tells many stories about Middletown's past. The large family markers on the North end of the yard speak to well-to-do families whose heads earned distinction in war, politics, and business. The sparsely-placed headstones in the South end, where until the last decade only African Americans were buried, gives testament to the racism and segregation that these people faced. Their histories, however, reveal their struggles for freedom and equality.
Rev. Jehiel C. Beman, died 1858, was a leader for the Northern Free Black Community. He used his placement at the AME Zion Church in town to help found the Middletown anti-Slavery Society and also secretly conduct the Underground Railroad.  Isaac Truitt (1877), James Caples (1889), Alfred (1907) and James Powers (1868), Rufus Addison (1916) and Christian Gordon (1865) all fought in the civil war in the 29th, 31st, and the 55th colored infantry for the emancipation of their people. Mr. Truitt was a chimney sweep at Wesleyan and a favorite of the students. Leverett Beman (1883), Jehiel's son, bought the entire triangle of land bordered by Cross St., Vine St., and Knowles Ave., and sold the plots to other African Americans to form the heart of the black community in Middletown.
These people and many, many others lived in Middletown and died without having their stories recorded. As you begin your lives here, I encourage you to seek out these stories, document them, and share them with your community.
 Nate Ratner '10, Anthropology major