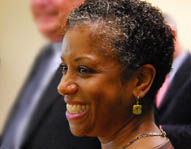 Sonia BasSheva Mañjon, Vice President for Diversity and Strategic Partnerships, came to Wesleyan from California College for the Arts <http://www.cca.edu/> in July, 2008. At CCA, Mañjon served as a member of the president's cabinet, director for CCA's Center for Art in Public Life, chair of its community art major and Diversity Studies Program, co-chair of campus diversity initiatives, and a member of the faculty. Mañjon developed the country's first bachelor of fine arts program in community arts, which stresses student civic engagement and diversity issues. In addition to her positions at CCA, Mañjon also served as executive director of the City of Oakland's Craft and Cultural Arts Department <http://www.oaklandculturalarts.org/main/> , director of the Community Arts and Education Program for the San Francisco Art Commission <http://www.sfartscommission.org/CAE/> , and executive director of the San Francisco National Academy of Recording Arts and Sciences <http://www.grammy.com/Recording_Academy/Chapters/San_Francisco/> . Mañjon earned a Ph.D. in humanities, transformative learning and change in human systems and an M.A. in cultural anthropology and social transformation from the California Institute of Integral Studies <http://www.ciis.edu/academics/sca.html> , and received a B.A. in world arts and cultures with a dance emphasis from the University of California, Los Angeles <http://www.ucla.edu/> .

The Office of Diversity and Strategic Partnerships was created to provide leadership on civic engagement and cooperation with private and public organizations and to collaborate with Wesleyan's administrative and academic offices and departments to develop programs to attract, retain and inspire students, faculty and staff from groups currently under-represented on campus. As Wesleyan's vice president for diversity and strategic partnerships, Mañjon is charged with enhancing the university's outreach and engagement with the greater Middletown community. As Wesleyan's chief affirmative action officer, Mañjon directs the Office of Affirmative Action and serves as an advocate for the interests of students in such areas as recruitment, curriculum development, campus culture and career planning.

In her free time, Mañjon enjoys spending time with her sons Zyan, 11, and Ezra, 8. A true soccer mom, she can be found cheering them on at basketball, football, soccer and baseball games. At home, she enjoy singing and dancing with her boys around the house and playing basketball in the back yard. During mommy-free times, she enjoys salsa dancing and reading a good book in front of the fireplace — which she will have lots of time to do when the snow comes.