Please join us tomorrow night  for the fifth film of our Hispanic Film Series that showcases new cinema from Latin America and Spain. We hope to see you there!
 CHICO & RITA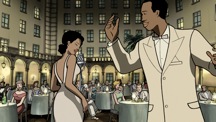 Fernando Trueba, Javier Mariscal and Tono Errando / 94 min. / 2012
Oscar®-winning director Fernando Trueba (The Age of Beauty) and famous artist Javier Mariscal, have teamed up to make Chico & Rita, an animated love story starring the music, culture and people of Cuba. Chico is a dashing piano player and Rita is an enchanting  Havana nightclub singer. When they meet, the sparks fly and they fall madly in love. An epic romance unfolds as the pair travels the glamorous stages of 1940s/1950s Havana, New York City, Las Vegas, Hollywood and Paris.    
Where: Goldsmith Family Cinema, Center for Film Studies
When:  Thursday, October 4th, 8 p.m. 
Free Admission 
 Presented as part of The Spanish Film Club series with the support of Pragda, the Secretary of State for Culture of Spain, and its Program for Cultural Cooperation with U.S. Universities. In collaboration with Wesleyan's Latin American Studies program and the Department of Romance Languages and Literatures' Thomas and Catharine McMahon Fund.