Dear Students,
Please help decide Wesleyan's next five-year academic calendar by completing the brief survey you received from Michael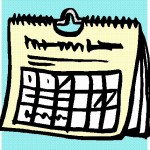 Whitcomb on April 11, titled "Help decide Wesleyan's future Academic Calendar."  The Educational Policy Committee is soliciting input from students, faculty, librarians, and staff in order to design a calendar best suited to the community's preferences.  Considerations include: semester start and end dates, length and timing of breaks, and final exams and reading period.
Feel free to email mjarris@wesleyan with any additional questions or concerns.
Best, Mari Jarris '14 and Aubrey Hamilton '12, WSA Student Reps, Educational Policy Committee