Intimate Grammar, a film adaptation by director Nir Bergman, based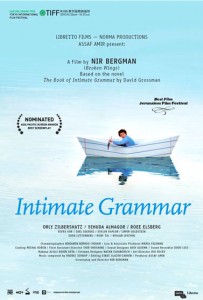 upon the renowned author David Grossman's book, will be the fifth film screened in The Ring Family Wesleyan University Israeli Film Festival on Thursday, March 1 at the Goldsmith Family Cinema at 8 p.m. This film explores the metaphoric and emotional field of grammar through a 12 year old boy, Aharon, who refuses to grow up. Film critic Laura Blum will deliver a talk entitled The Boy Who Would Not Grow Up as well as conduct a question/answer session after the screening.
The film is 110 minutes and has English subtitles. Admission is free and all are welcomed. 
Please note that our last screening will take place on Thursday, March 29 at the Goldsmith Family Cinema at 8 P.M. Film director and Wesleyan University Distinguished Visiting Scholar, Dani Menkin, will comment upon his movie Je T'aime, I Love Terminal as well as take questions from the audience. 
I hope to see you at the movies,
 Dalit Katz, Religion Department, Jewish and Israel Studies Certificate Program,Director of the Ring Family Wesleyan University Israeli Film Festival