Students are invited to a symposium called 'Digging Together. Community Archaeology: Practice and Potential.' It will be held  Saturday February 25 from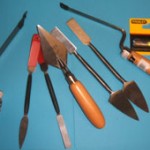 1pm to 4pm at the former Cross Street AME Zion Church (160 Cross St, just down from Neon Deli, opposite the Freeman Athletic Center). The forum will be This is being held in advance of beginning excavations on the 'Beman Triangle' (between Vine, Cross, and Knowles) in partnership with the Cross Street AME Zion Church this April. The project is being run as a service learning class where Wesleyan students are putting into practice the principles of shared partnerships through community archaeology as they learn about the history of the Beman Triangle and the methods of archaeology. This site is of national importance, as it was a planned mid-nineteenth century settlement of property owning African Americans. Here members of the AME Zion Church community (Middletown's was the third such Church to form) managed to live successful lives in the face of racist oppression at a national and local level. The excavations will explore the material remains of the daily lives of these households.
 At the symposium, the  three speakers will be discussing projects which work in collaboration between communities and archaeologists to engage in archaeological projects which produce exciting research outcomes, but in partnership with communities and which also engage with their own interests in specific sites.
 Further details about the symposium are online, along with more details of the Beman Triangle archaeology Project: http://middletownmaterials.research.wesleyan.edu/beman-triangle/