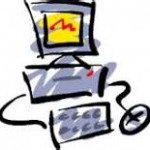 Do you wish your professors knew how to use Moodle better?  Is the Wesleyan Mobile app just not good enough?  Does the Cisco sign-in system bother you?  The committee that helped get you faster Internet, upgraded computer kiosks in Usdan, and much more could use your help.  If you're interested in innovation in everything from laundry to communications to academics, you should apply to join the WSA Information Technology Committee!
The Information Technology Committee (ITC) is a committee of students serving on the Wesleyan Student Assembly (WSA), but also meets frequently with Information Technology Services (ITS) administrators.  The committee works on several of its own projects in addition to advising ITS on various items affecting daily campus life.  We deal with issues like technology "in the classroom," technology for student groups, and even the Internet connection you're probably using to read this email.  To learn more, go to wsa.wesleyan.edu/tech.
There is no required level of technological prowess or knowledge for this position; all you need is an interest in improving the state of Wesleyan through these means.  Also, by serving as an ex-officio member, you will not serve on the WSA General Assembly, so you can keep your Sunday nights free!
To apply, send a one to two paragraph statement expressing your interest to sali@wesleyan.edu by Saturday, February 18th at 5PM.  After submitting your statement, you will be contacted about interview times.  Please feel free to contact me with any questions as well.  Hope to hear from you soon!
Best, Syed Ali '13, Information Technology Coordinator, Wesleyan Student Assembly (WSA)