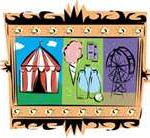 CHECK OUT THE LONGEST RUNNING VOLUNTEER COUNTY FAIR IN THE COUNTRY!! — September 22 – 25, 2011
In 1916 the Durham Fair began a tradition. That tradition continues today during the last full weekend in September when the fairgrounds come alive and magically transform into Connecticut's largest agricultural fair. Come visit the Durham Fair and you'll see what a real fair is all about. Live entertainment, rides and games on the Midway, first-class animal competitions and discovery events on the Corn Stalk Stage. Along with a trove of crafts, exhibits, shopping and fun food. Yum! The Durham Fair is easy to reach yet hard to leave. We know you will have a great time!
The Durham Fair is owned and operated by the Durham Agricultural Fair Association, Inc., and is a private, not-for-profit corporation. The Durham Fair is the largest fair in North America managed entirely by unpaid volunteers. For more information click http://www.durhamfair.com/.
Note from Dean Brown: Headliners are KC and the Sunshine Band (a little retro disco anyone?) on Sunday night, Blues Traveler with harp afficionado, John Popper, on Saturday night, and Steel Magnolia on Sunday afternoon. There is an entrance fee for the fair whether you go day or night, so check that out on their website as well. Great rides, fair food, music, and exhibits of all types. Don't miss this New England county fair!