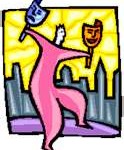 Audition for Directed Experiences in Acting (THEA183). This is a half credit class that requires no papers, no reading, and no tests: just acting.
Actors who are cast will work with the students of Directing 1, and at the end of the semester you will present a scene. All levels of experience are welcome. Froshies: it's a great opportunity for you to meet some people in the theater department whether or not you're considering being a major, and it's the only class for actors this semester. Everybody else: it's a totally low pressure way to try out acting whether or not you've ever done it before and get some credit for it!
The class meets on Fridays from 1:10 to 4 p.m., and there will be 6-8 hours per week of outside rehearsal. You will be contacted the day after auditions and informed if you are cast, and then you should submit an enrollment request for the class and it will be approved.
Auditions will be Wednesday from 7 to 11 p.m. in the theater studios. For the audition, please prepare a 1-2 minute monologue (memorized, preferably written before 1970). Sign up on the call board in the theater studios.