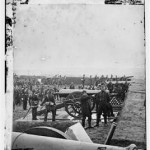 This evening, Wednesday, April 20 at 7pm, the Friends of the Wesleyan Library are sponsoring a talk by Dr. Matthew Warshauer, Professor of History at Central Connecticut State University and co-chair of the Connecticut Civil War Commemoration Commission.  Dr. Warshauer will discuss his new book, Connecticut in the American Civil War: Slavery, Sacrifice and Survival.  Although no battles took place in Connecticut, the state was extensively involved  in the conflict. Connecticut sent more than 30 regiments to the front, had an extensive industrial capacity and was active on the home front.  Connecticut has more than 130 Civil War monuments. 
The lecture will take place in the Develin Room on the second floor of Olin, just off the main stairwell. 
>From 6:30-7:00 and again after the lecture, Suzy Taraba, Head of Special Collections & Archives and University Archivist, will host an open house viewing of the Samuel Proal Hatfield Civil War Photograph Album and other selected items related to the Civil War in the Davison Rare Book Room, Special Collections & Archives (1st floor Olin).
For more information visit:  http://www.wesleyan.edu/libr/friends/events.html
Join us for an exciting and timely conversation as we begin commemorating the 150th anniversary of the Civil War.