English Department Lecture Series
Daniel Kim
Associate Professor of English, Brown University
"Black Korea, 1950-53: African Americans and the Conflict in Korea"

Wednesday, April 6, 6pm
Downey House, 113

The talk is taken from Professor Kim's current book project, The Korean War in Color.  In it, Kim examines U.S. cultural representations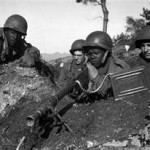 of the Korean War in an interracial and transnational framework, focusing on depictions of Asians, Asian Americans and African Americans.  Working against the historical erasure of this event, the book returns us to novels, films, and journalistic accounts from the 1950s to bring into focus the watershed role that the war played in the framing of dominant liberal narratives of race and empire.  

Daniel Kim is the author of Writing Manhood in Black and Yellow: Ralph Ellison, Frank Chin, and the Literary Politics of Identity (Stanford University Press, 2005). Generated at the intersections of feminist, gender, gay/lesbian and ethnic studies, this book examines literary representations of racialized masculinity, and it is the first study to do so in a comparative – African American and Asian American – context. He has published essays in American Literary History, Criticism, Journal of Asian American Studies, and Novel: A Forum on Fiction.
Students and faculty from across the university are warmly welcome for what we hope will be a convivial and exciting event.
For more information, please contact Amy Tang (x3595 or atang@wesleyan.edu).