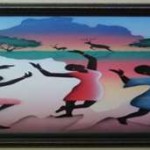 Friday, April 1, 2011
Bajari
The West Indian Cultural Show will contain an array of live performances from various student groups. Performances will serve to showcase and highlight the mixed culture and multiple ethnicities from within the West Indies.
World Music Hall 8 p.m.
Bajari After-party
Students are invited to "willie-bounce", "wine", and "wuk-up" to reggae, calypso, and dancehall music! The explosive fusion of Caribbean sounds will be presented by DJ Stylez.
Co-Sponsored by Ajua Campos     Malcolm X House 10:30 p.m.