This event is co-sponsored by the Mansfield Freeman Center for East Asian Studies and the Department of Film Studies. 
FILM SCREENING:  The Black Camel (1929)  and Charlie Chan in Honolulu (1938)–Sat., March 26,  8 p.m., Goldsmith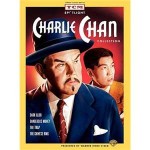 Family Cinema           
TALK
Charlie Chan: The Untold Story of the Honorable Detective and His Rendezvous with American History   
Yunte Huang (the University of California, Santa Barbara)   4:30 pm, Thursday, March 31, 2011; FEAS Seminar Room, Mansfield Freeman Center for East Asian Studies (343 Washington Terrace)
Shortlisted for the 2010 National Book Critics Circle Award in Biography and the 2011 Edgar Award for Best Critical/Biographical Book. 
To most Caucasian Americans, Charlie Chan is a funny, beloved film character who talks wise and acts even wiser. But to many Asian Americans, he remains a pernicious example of a racist stereotype, the kind of Chinaman who, passive and unsavory, conveys himself in laughable broken English. Yet despite being a flamboyant cinematic and cultural icon, Charlie Chan and his influence on American culture has remained, until now, virtually unexamined. At last, in this groundbreaking work, scholar Yunte Huang traces the evolution of Charlie Chan using hundreds of biographical, literary, and cinematic sources, both in English and in his native Chinese. This is the first biography of the cinematic hero Charlie Chan, whose character was inspired by the real-life story of Chang Apana, a bullwhip-wielding, five-foot-tall Chinese immigrant detective whose raids on opium dens and gambling parlors made him into a Hawaiian legend. Yunte Huang masterfully re-creates the world in which Apana roamed filled with desperate Chinese who worked as indentured laborers on sugarcane plantations, railroad builders who took on the overly dangerous jobs, and laundrymen who toiled away through steam and starch. Set against the backdrop of turn-of-the-century territorial Hawaii, Huang follows Apana's footsteps through the shadowy alleyways of Honolulu's bustling Chinatown, where the real-life adventures of the cowboy turned constable would eventually become folklore for the local population. The talk will be followed by a book signing.
Yunte Huang a professor of English at the University of California, Santa Barbara, is the author of Transpacific Imaginations and Charlie Chan. Born in China, he lives in Santa Barbara, California.  See  http://www.nytimes.com/2010/08/11/books/11chan.html