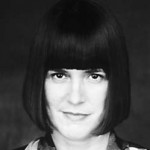 Come see The Vagina Monologues, Feb. 11 and 12! 
The Vagina Monologues, by Eve Ensler (pictured), is co-directed by two members of the Class of 2013–Alanna Greco and Julia Black as well as Emily Steck '12–and among its stars are five more members from the sophomore class! The play at the '92 Theater is a Wesleyan tradition–full of sexy moans, hilarious anecdotes, and heartwarming stories.  It is not to be missed!
Tickets are $4 at the box office.  Proceeds from tickets will go to SHOFCO–Shining Hope for Communities!