Want a way to celebrate the end of classes?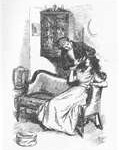 Come to Second Stage's production of Sense and Sensibility, a play about two sisters left practically impoverished by their father's death who must find balance between cold sense and wayward sensibility so that they both might find true love.  Prepare for romance, intrigue and laughter as you enjoy this play directed by Jelisa Adair '13 and Amara Davila '13 and adapted to the stage by Jim Fay. 
Tickets are available on the day of the performance from the box office–December 9-11, 8 p.m., '92 Patricelli Theater.