Please join us for a performance by poet Susan Howe and composer David Grubbs
Wednesday, December 1, 2010  8 P.M.   CFA Hall
Renowned poet Susan Howe is a major force in contemporary letters and author of over a dozen books of poetry and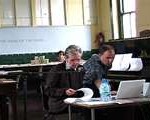 critical prose, including Singularities, The Non-Conformist's Memorial,  Souls of the Labadie Tract, My Emily Dickinson, and the forthcoming That This. She has collaborated with David Grubbs on two CDs. Howe is the English Department's Distinguished Visiting Writer for 2010-11.
David Grubbs has released 11 solo albums and is known for his collaborations with writers and visual artists. He directs the Blue Chopsticks record label and is completing the book Records Ruin the Landscape: John Cage, The Sixties, and Sound Recording.
Both artists will be available for a Q & A the same day from 4:15-5:00 at the Shapiro Writing Center's events room (3R in Allbritton).
These events are co-sponsored by the English Department, the Music Department, and Writing at Wesleyan.
 For more information contact ewillis@wesleyan.edu / x 3582 or visit http://cts.vresp.com/c/?WesleyanUniversity/85de9330df/TEST/62189d0651