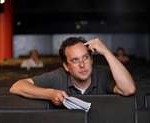 This Thursday, November 4, New York Times film critic A.O. Scott will give a talk in the Memorial Chapel at 7 PM. This event is free and open to the public.
A. O. Scott joined The New York Times as a film critic in January 2000. Previously, Mr. Scott was a Sunday book reviewer for Newsday and a frequent contributor to Slate, The New York Review of Books and many other publications.
The event is sponsored by the New York Times, the Wesleyan Student Assembly, and the Wesleyan Film Department. We hope to see you at the Chapel this Thursday.