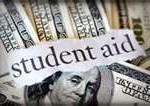 Do you (or your friends) have any stories you want to tell about your experience with financial aid at Wesleyan? Would you like to help improve the financial aid process in any way?
GIVE US YOUR IDEAS! MAKE YOUR VOICE HEARD!
The Wesleyan Student Assembly is hosting this year's Financial Aid Forum where we would like you to come and share your financial aid experiences. Your opinions will enable us to discuss a variety of topics with the Financial Aid Office in their semester meeting with the WSA's Financial Aid Committee. 
The forum will take place at 7:00 pm on Thursday, October 21st, 2010 in the Nics Lounge. Food will be provided.
For more information, you can contact Sandy A. Durosier at sdurosier@wesleyan.edu or Zachary Malter at zmalter@wesleyan.edu, or follow the link to the facebook group, http://www.facebook.com/event.php?eid=134999029883130.