This summer I explored organic farming in two very different areas of the world, both culturally and in terms of climate: Costa Rica, and Westchester, New York. Just four days after I left Wesleyan, I traveled with a friend to the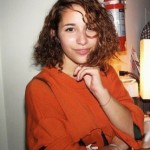 town of Guapiles, Costa Rica, which is a small rural town on the Caribbean side of Costa Rica, surrounded by rain forest. There I worked on an Organic farm that I came into correspondence with through WWOOF (WorldWide Opportunities on Organic Farms). The farm I stayed at was right on the border of the rain forest. I lived in a bamboo and mud cabana next to a lake, and we had no real company other than the people living on the farm, their 5 dogs, and the animals around us. Each morning we would wake to the sound of howler monkeys and the sight of an active volcano's plume of smoke just visible above the canopy of the rain forest, and we would go to bed each night once the sun went down. I spent my time cutting bamboo and citronella, harvesting cacao, banana, and pineapple, clearing paths in the rain forest, and traveling about the Caribbean coast of the country.
The town we were in was by no means a "touristy" area, and we were immersed in local culture, from the food, to the slang, to the customs. We had no real toilets nor hot running water, and our electricity came from a hydroelectric water system supplied by a spring coming through the forest. Being in such a different cultural environment really opened my eyes to how diverse the world really is. Even though I was not there for a long amount of time, I quickly grew accustomed to the simplicity of life in Guapiles, the weather, and the giant bugs (I'm talking black and yellow spiders the size of the palm of your hand). Upon arriving back in the United States, I experienced another culture shock when I realized how luxurious and excessive the American lifestyle can seem to the rest of the world.
After I got settled back in at home, I began working on another Organic Farm in Katonah, New York. Our harvest on this farm was very different from that in Costa Rica. We grew raspberries, squash, arugula, garlic, cucumbers, eggplants, tomatoes, pumpkins, cantaloupes, and much more. I would wake up to work at 6:30 in the morning a few days a week to head to the farm and perform tasks such as cutting and washing the greens, manning the farm stand, weeding, tilling, and seeding rows, trimming raspberry bushes, and other such labor. The work at the farm in New York was actually much more intense than the work in Costa Rica, and very fulfilling. I would go home every day caked in dirt, but equipped with a bag of free fresh fruit and vegetables.
Working on organic farms all summer has made me really understand the process that food goes through before it ends up on your plate. I have begun to emphasize the idea of sustainability and organic food in my food intake, while simultaneously gaining a new understanding of food and culture around the world. However, I would say that eating such delicious fruits and vegetables all summer has spoiled me a little bit! I guess I'll just have to adjust to normal (less expensive) produce.