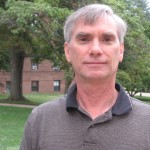 The CRC liaison with the sophomore class is Jim Kubat, Associate Director and Pre-Law Advisor.  He provides general career advising, with a particular focus on careers in law and public service (government and the private nonprofit sector). 
 Jim says, "If a student has not visited the CRC at least once during the first year, it is essential that he/she comes in during the fall of sophomore year and meets with one of our counselors for a full-length appointment.  We want to see everyone: those students with no career plans and those who are further along with their planning.  Explore your options, discuss your goals, review your resume, learn about summer internships, and get on track!"
Go to the CRC!  Get a feel for the office and what is available to you.  It is never too early to explore and discover.